First, thanks to those that suggested I sell the tutus at my boutique. I made some to sell today and I just posted them! Let me know what you think. And don't worry, I am saving my extra poofy one for Eden's birthday!
Since I have decided to start selling hair bows it seems I am running out of room to store them! I have a simple, cheap, idea for another bow holder and I thought I would share.
I took some sturdy cardboard, traced and cut out the letter E (for Eden)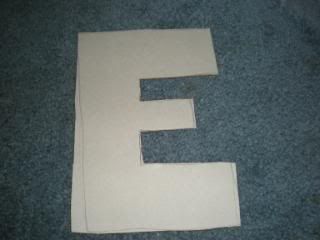 Apparently I have a hard time cutting within the lines.
Then I took a square of some cute fabric I got on clearance from Wal-Mart and mod podged it to my letter.
Then I cut around my letter leaving a little extra fabric so I could mod podge the edges to the back.
Then I hot glued some ribbon to the letter! I used the gift wrapping kind so I wouldn't have to use up my bow making ribbon!